QST - 03.2022
Read in the issue:

Second Century
"You think you're Mickey Spillane?"

A Compact 40-Meter Three-Wire Folded Loop
Jim McLelland, WA6Q5U

Portable 20-Meter Phased Dipole Beam
Bob Rose, KC1DSQ, and Bob Glorioso, W1IS

DL3FF Pendulum Bugs
Dr. Rudolf Kaiocsay, DL3FF

New Challenge Coin Commemorates
NCJ's 50th Year of Publication

Product Review
Pascal Villeneuve, VA2PV
Four State QRP Group Bayou Jumper 40-Meter CW Transceiver; West Mountain Radio PWRcheck+ DC Power Analyzer; WiMo QRM Eliminator; Monitor Sensors Power and SWR Meter

Meet the New Product Review Editor
Pascal Villeneuve, VA2PV

OH2BH Looks Back at 60 Years in DXing
Martti J. Laine, OH2BH/AH3D

The Heartbeat of the Shortwaves
Jen Glifort, KC1KNL

The 2021 IARU HF World Championship Results
Bob Raymond, WA1Z

The April 2022 ARRL Rookie Roundup — Phone

A Look Back: April 1972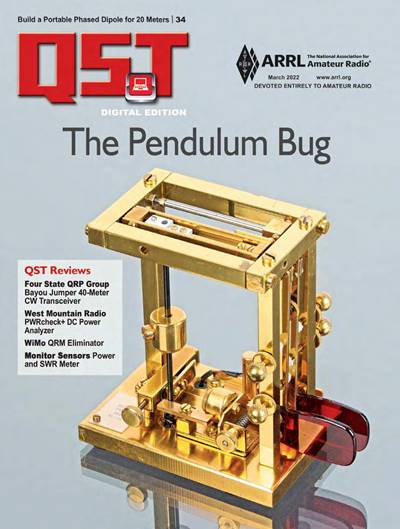 QST magazine is the most widely read Amateur Radio publication in the country. Each month, ARRL members "read all about it" in QST. Since 1915, QST has delivered the latest news and practical information from the world of Amateur Radio. Rely on QST as your source for equipment reviews, clever technical tips, projects, timely happenings, and critical FCC news. All hams, regardless of license class or experience, will find it indispensable.
Contents
English | 164 Pages | PDF | 21.1 MB
Download "QST" Magazine No.3 (March) 2022
Информация
Посетители, находящиеся в группе Гости, не могут оставлять комментарии к данной публикации.
Зарубежные журналы

Радиотехнические журналы

Книги