QST - 02.2022
Read in the issue:

Second Century
Diversity and Inclusion: Driving Amateur Radio's Growth

A Compact 630-Meter Active Loop Antenna
Salvatore DeFrancesco, K1RGO

A Wi-Fi Antenna Rotator Compass
Giovanni Carboni, IZ5PQT

12- and 17-Meter Antenna Design
Joe Reisert,W1JR

Product Review
Mark Wilson, K1RO
RigExpert AA-2000 ZOOM 0.1 - 2000 MHz Antenna and Cable Analyzer; CSN Technologies S.A.T. Satellite Tracker/Controller; Geochron Digital Atlas 2 4K World Clock; Par EndFedz EFT-10/20/40Trail Friendly EFHW Antenna

Mountain Topping: A New Way to Make DX Contacts
Joe Guy, KM4BFU

Maintaining Privacy in a Public Hobby
Don Keith, N4KC

Meet the Mentor: A Virtual Mentorship Program
Don Evans, K3ZR

Planning Your First DXpedition
Al Rovner, K7AR

ARRL Seeks Nominations for 2022 Awards
2021 ARRL 10 GHz and Up Contest Results
Rus Healy, K2UA

2021 ARRL 222 MHz and Up Distance Contest Results
Paul Bourque. N1SFE

A Look Back: March 1972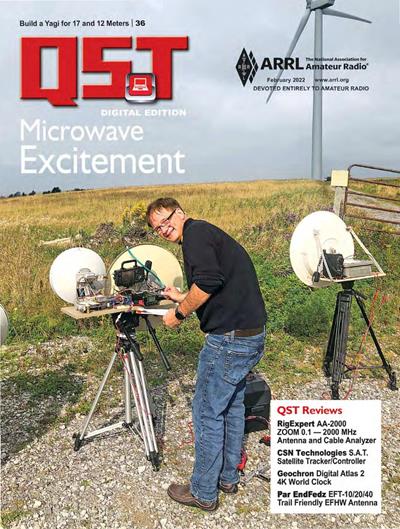 QST magazine is the most widely read Amateur Radio publication in the country. Each month, ARRL members "read all about it" in QST. Since 1915, QST has delivered the latest news and practical information from the world of Amateur Radio. Rely on QST as your source for equipment reviews, clever technical tips, projects, timely happenings, and critical FCC news. All hams, regardless of license class or experience, will find it indispensable.
English | 136 Pages | PDF | 21.8 MB
Download "QST" Magazine No.2 (February) 2022
Информация
Посетители, находящиеся в группе Гости, не могут оставлять комментарии к данной публикации.
Зарубежные журналы

Радиотехнические журналы

Книги