Hi-Fi Choice - 03.2022
Read in the number:

The latest news on the hottest products from the world of hi-fi coming your way

Put your points of view and queries on audio matters to our team of experts

The Hi-Fi Choice team say it as they see it as they discuss the issues of the day

The month's essential new CD, vinyl and hi-res releases given a work out

Our hottest hi-fi component picks

Sell your unwanted hi-fi for FREE here

The sonic treats to look out for next month

Margate and Ramsgate's finest record stores come under the spotlight

Back comb your hair and dig out the lippy in honour of The Cure's miserable majesty

Our pick of the most exciting things coming your way this month

AVID HiFi Reference Four

Mission LX Connect

Fyne Audio F500SP

C 700 streaming amplifier (Main test)

Reference Four two-way standmount loudspeaker (Exotica)

LX Connect wireless streaming all-in-one system

MW08 Bluetooth wireless earbuds

Zeppelin 2021 wireless active loudspeaker

Majistra two-way standmount loudspeaker

F500SP two-way standmount loudspeaker

Peacock over-ear, open-back planar magnetic headphones

Concept 30 two-way standmount loudspeaker

125SB belt-drive turntable (Retro)

Emerald Constrictor 6-way powerblock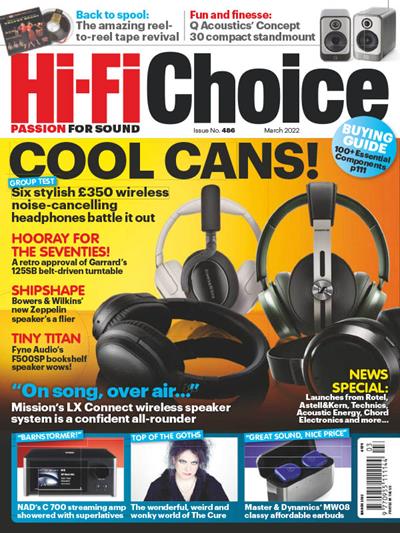 «Hi-Fi Choice» is the perfect magazine for anyone who has a passion for music and audio excellence. The technology of recorded sound has seen a seismic shift since Hi-Fi Choice's launch in 1975, yet despite this its core ethos remains. From vinyl and valves, to multi-channel digital audio and high-fidelity video, we sort the best from the rest with rigorous test processes and a highly experienced team of reviewers ? a thorough, no-nonsense guide for those who demand supreme fidelity. Hi-Fi Choice magazine conveys our love for music and hi-fi with both depth and accessibility, widening the window on real hi-fi for audio buffs and music fans wishing to make the most of their sonic passions.
English | 132 pages | True PDF | 18.5 MB
Download "Hi-Fi Choice" – Issue 486, March 2022
Информация
Посетители, находящиеся в группе Гости, не могут оставлять комментарии к данной публикации.
Зарубежные журналы

Радиотехнические журналы

Книги