Electronics Maker - 02.2022
Read in the issue:

COVER STORY. The Future of loB is Exciting

INDUSTRY WATCH. DC-DC converters for Next Generation Electric Vehicles

TOP COMPANIES. Top Manufacturers in Silicon Carbide (SiC)

SIC. Technology Outlook for Silicon Carbide Semiconductors

ARTIFICIAL INTELLIGENCE. NanoEdge AI Studio

POWER DESIGN. Design guidelines for high power server and telecom power supplies use-cases

LED. Responsive LED Lighting Lowers Energy Costs

SEMICONDUCTOR. Unleashing Sales Etlectiveness in the Semiconductor Industry Using Technology

ROBOTICS. What lies ahead in 2022 for UAV and Robotics

POWER. The Future of Power Needs to be Exotic

DESIGN ZONE. A Unified LTspice AC Model for Current-Mode DC-to-DC Converters

AVIATION. Internet of Things and Airlines - A Match Made In Heaven?

ELECTRIC VEHICLES. New Semiconductor Materials to raise EVs to the next level

POWER. BCU: Power Solutions for Commercial Energy Storage Systems

FARMING. A New Wave of IoT solutions lead the way to more sustainable farming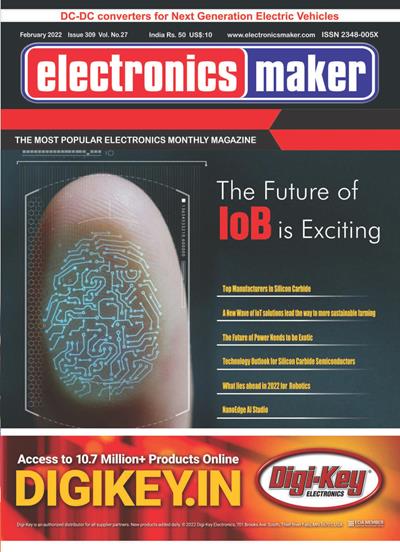 Electronics Maker is published by EM Media LLP. (INDIA) since 1996 is the most popular electronics monthly journal covering news, updates, launches, trends, technologies, viewpoints from all around electronics world. Today our publication is circulate more than 70,000 copies (India + International) and having readership up to HALF million. Most importantly we are publishing the contents taking care of industry needs and readers interest. Our expert team brings the innovations through an intense research in the field. Enjoy Reading.
Contents:
English | 84 Pages | PDF | 22.6 MB
Download "Electronics Maker" Issue 309 Vol. 27 (February 2022)
Информация
Посетители, находящиеся в группе Гости, не могут оставлять комментарии к данной публикации.
Зарубежные журналы

Радиотехнические журналы

Книги