Australian HiFi - 03/04 2022
Reviewed:
PARADIGM FOUNDER 40B LOUDSPEAKERS
When a reviewer tells you that the speakers he is reviewing are the speakers he would buy himself, it's time to pay attention.

AUDIO-TECHNICA AKH-CTS50TW IN-EAR 'PHONES
Outstanding battery life, great bass, good active noise cancellation, excellent sound quality and more features than you could poke a stick at.

MARK LEVINSON No. 5105 TURNTABLE
Mark Levinson's second turntable is nothing at all like its first, which is hardly surprising as they were built by completely different companies.

AURENDER A30 MUSIC SERVER
Aurender's flagship model is more than just a music server. It's also a streamer, a CD ripper and a headphone amplifier. It's a winner!

B&W 804 D4 LOUDSPEAKERS
ln the more than half-century this famous UK speaker firm has been in business, it's built some decidedly weird-looking speakers in the pursuit of sonic perfection.

PS AUDIO M1200 STELLAR MONOBLOC POWER AMPS
Reviewer Robert Hargreaves reckons that if you really need more than 1,200 watts per channel to power your speakers, this duo is the one to buy. But if you feel you don't need quite so much power, he recommends two other — equally worthy — candidates for your hard-earned.

IFI ZEN CAN HEADPHONE AMPLIFIER
"Can a reasonably-priced dedicated headphone amplifier deliver the goods?" is a question any audiophile is entitled to ask these days, and in the very model name of the Zen Can, you already have your answer...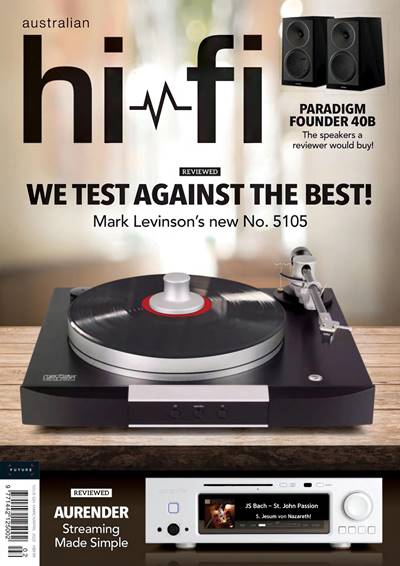 Australian Hi-Fi is the definitive magazine for discerning listeners and Hi-Fi enthusiasts. Every issue is packed with equipment and music reviews, new product information and 'how-to' articles. Australian Hi-Fi magazine is dedicated to helping you find the best quality sound for your home.
English | 84 pages | PDF | 10.1 MB
Download "Australian HiFi" - March/April 2022. Issue 524. (Vol 53 No 2)
Информация
Посетители, находящиеся в группе Гости, не могут оставлять комментарии к данной публикации.
Зарубежные журналы

Радиотехнические журналы

Книги